"I am evolving all the time!"
-Soraya Sobreidad
Holas my darling! What's my story?
Wow, I can tell you that my "becoming a full-fledged Healthy Latin Cooking Queen" has been a lovely process!
I come from a hardworking Puerto Rican family. A family that takes pride in entrepreneurship. A family with a love for cooking and a huge love for FOOD!
Singing opera tunes in my family's Brownsville Brooklyn New York kitchen, I escaped into comic books, 45 rpm 7 inch vinyl records and art! I was also a witness to the cooking, preparation and creation of delicious Latin cooking!
I could not believe all the delicious foods and recipes. Something really special was happening.  In the kitchen much more than any other room in my home The experience I felt was amazing as the women in my family emitted a swirl of energy and a glow that was distinctive. The aromas, the laughter, the excitement of successfully executing a new dish and preparing classic traditional recipes was exciting beyond words to me. Prepared with so much love by woman who were kind, loving, intelligent and more beautiful than the actresses I would see on TV and vocalists I would hear on the radio. I was a huge Diana Ross and The Supremes fan. This was in the mid to tale 60's. I was born in 1959. The women in my family were true divas. Fabulous cooks!
I loved the experience. Beauty, family, good food and love surrounded me always.
These were the ingredients to each meal I had each and every day.
Delicious.
Quickly and swiftly, I became obsessed with cooking and food.  The candy/ice cream parlor located on the first level of our apartment building right below my bedroom window was extremely accessible to me. It was a magical place, second the kitchen in my home.  The pastries, the high fat fried foods and white flour products. 
All so delicious! Then somewhat addicting. 
I became overweight quickly.
Then my struggle with obesity and overeating started to become an issue.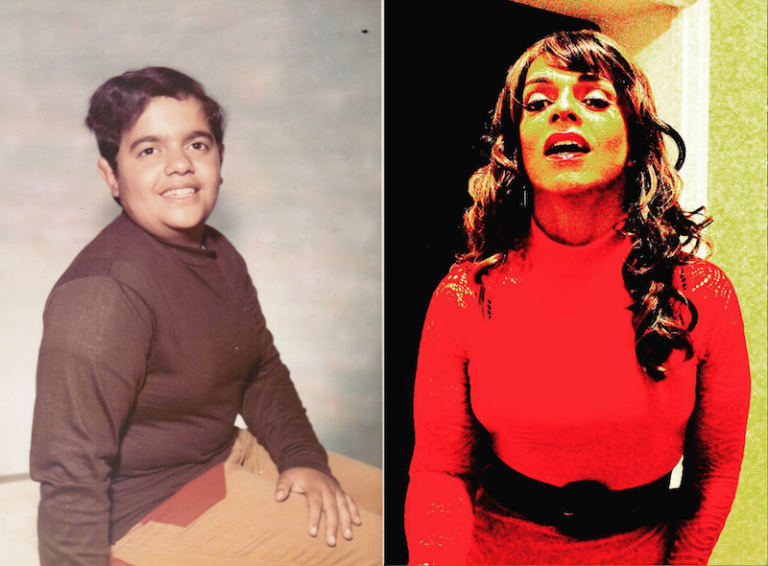 In my early years I was chubby and had a hard time fitting in. Finding clothes that would fit was a problem. My body as a boy was soft. I started to be called names and ridiculed for the excess fat and tissue on my chest. I was not flat chested at all, like other boys. 
Jack LaLanne and Charles Atlas were popular fitness instructors/ gurus at the time.  In the back of every Archie comic book I read there was a Charles Atlas advertisement. Promising boys if they followed his program, we too could look like him. We could be the studs at the beach getting the girl we wanted. We would be handsome, beautiful, masculine and healthy.  No matter how much I wanted to, I could not transform into the healthy flat chested, masculine, "normal" looking boy I wanted desperately to become and saw in school at gym class and in the ads in the back of my comic books.
We had moved to the suburbs of Long Island in 1969.
There and at that time I was 12 years of age. Our family doctor had me on all kinds of diets, suggesting to my mom that I really needed to address the extra weight and keep it off. 
With my mom's guidance, support and love she enrolled me to participate in Weight Watchers with her as she too was also struggling with obesity. I then started experimenting with Weight Watchers recipes to learn healthy cooking techniques. 
Success! 
I started to lose weight. YEAH!! Then gained weight. I lost weight. YEAH!! Then gained weight. I lost weight. YEAH!! Then gained weight. Uuugghh!!!!
 I then tried other methods to control my weight. Diet pills, gadgets, protein drinks, the grapefruit diet, Think Thin. I tried all the fad diets and all the other weight loss clubs. Weight Watchers worked from time to time. Jean Nidetch was an inspiration to me from a young age. May she rest in peace as she still is in my heart and in my processes now as a woman dedicated to nutrition and wellness. 
My mom also struggled with obesity. We were "diet buddies" and offered each other support in the weight loss process. 
Unfortunately, the diets were short lived. It was a yo-yo diet syndrome with my weight. This up and down issue of gaining and losing weight continued into my late twenties. 
Fast forward, I came to terms with factors that slowly gave me the confidence and drive to lose weight. First, I accepted myself for being gay. That was huge. Coming out to my friends and family helped me to love myself enough to start on a deeper level on my weight loss journey! I also did a full embrace on being Latin, Puerto Rican and gay. Yes, I am a recovering Latino! When I was a young child and teenager back in the 60's and 70's it was not always easy to comfortably navigate as a brown person. I started to overcome the bitterness I experienced and move on. Through a lot of soul searching and grieving, I continued to blossom through self-acceptance. My addiction to sugar, alcohol, overeating and nicotine started to diminish. I gained more and more momentum in my techniques for the release of extra weight and the maintenance of my 70 lbs. plus weight loss.
I continued to "grow" with confidence and self-esteem! I became happier, more focused, a better friend, family and community member! I even started dating PEOPLE! Men even!  I've had great relationships. Grounded in love and companionship.
As a gay man I finally had a slimmer body. Not masculine like a Charles Atlas body, but I came into my own attractiveness as a normal weight gay Puerto Rican male. 
My creativity was soaring as a graphic artist, songwriter and music producer. That surge lead to an inspiration and desire to start a cooking show to teach others on YouTube how to cook and prepare healthy Latin meals. I was guided divinely to host the show in female persona as Soraya Sobreidad!
Success followed quickly. In a short time, I encountered visibility and acceptance from the public and media through expressing my idea of educating and inspiring others to fierce healthy Latin cooking as Soraya and my cooking show. 
Then overtime I realized that my gender identity was being challenged. I began to accept that I was much more than a man emulating a woman on my cooking show. I lost and maintained 70 lbs. then gained the awareness that my deeper self is indeed feminine. Feminine to the level of desiring to live and present myself as a transgender Latina. Life is an evolution, for me to say the least!
Which brings me to the now and the present of this moment and writing.
I hope I can help you find a comfortable place with your food plan, meals and eating with my Puerto Rican healthy cooking dishes, recipes and life experience.  My focus is to explain in a simple way how I made my emotional, physical and spiritual transition into healthy eating, cooking and fierce living! I have developed traditional Puerto Rican Latin recipes into lower fat, lower sugar and gluten/ dairy free scrumptious meals! To get very current, I have become more aware of my thoughts behind animal consumption.
My evolving nature has continued as I am now vegan. I was flexitarian for some time. I now choose not eat any animals. 
It was not planned, but when I came back from Spain in the summer of 2017 from my facial feminization surgery I was "zapped" with the awareness that I could not eat an animal as it once had a mother. 
Yep.
I was alone in Spain. The surgery and trip went fine and I enjoyed the trip very much. However, like any human when I retuned back to the states I was so missing my mom. I guess that's what added to the emotion and decision that it wasn't acceptable for me to take a life of a living creature, full of emotion and feeling like myself, for the benefit of food and eating. Animals have souls and miss their moms too. 
So now I am a vegan Puerto Rican!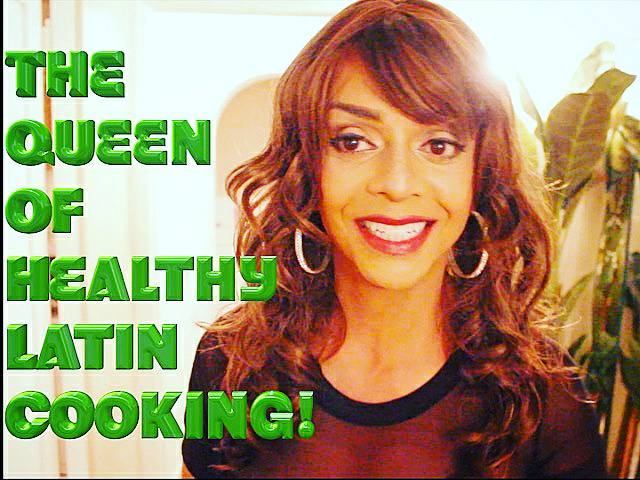 In conclusion, I hope you can see yourself in some parts of my story. I would like for you to come back to my website regularly, watch my cooking shows, visit me at the stand if you are local and enjoy my healthy Latin recipes, techniques, philosophies and products.  I invite you to join me in my continued transformation. Know that I am here, by your side to offer solutions, suggestions and delicious, sexy, tasty, healthy and fierce Puerto Rican meals!
My personal goal is to continue on my path to more and more wellness to become more and more the fabulous Puerto Rican queen of healthy Latin cooking and fierce living!
My life goal is to help anyone, and it can be you, in achieving and maintain similar aspirations and achievements. 
Thank you for stopping by and offering your time by reading this. 
Looking forward to connecting with you.
Gracias!