Holas!
I did come to the west coast to pursue my dream of creating a food stand presence and offer my delicious, nutritious, super sexy, Puerto Rican, east coast influenced dishes. Yes, I am here at two markets here in Long Beach!
Yeah!!!!
My vegan Puerto Rican cuisine can be enjoyed at the following markets. Click on the links below for exact location and hours!

Open
Friday, Year Round
---
Hours
10am – 2pm
---
Address
Inside City Place Shopping Center, on Promenade north between 3rd and 5th.
Thursday market has my plantain based, vegan, gluten free empanadas, my delicious vegan pinto bean guisado, arroz y gandules and alcapurria patties with non GMO soy beef. My luscious cashew cheese, maduros and mofongo.
Friday Market holds my signature gluten free Empanadas with non GMO vegan soy beef, my delicious vegan pinto bean guisado, arroz y gandules, maduros, my superb homestyle vegan Pasteles, vegetarian pork sausage (vegan when available), cashew cheese and besitos de coco sweetened with stevia.
Allow me to assure you that no meat products are used to season my Puerto Rican dishes. They are free from added food coloring and chemical flavor enhancers.
Also free from white processed flour and white sugar. Most dishes are gluten free. Will inform when whole grain gluten is in a recipe. Desserts are sweetened with Stevia. Pasteles are a specialty item and may not be available every week.
Feel free to call the week of for updated menus and check here periodically for menu changes.
Other vegan and gluten free classic Puerto Rican dishes and desserts will be added and available upon request.
Understand I am here to make all your Vegan Puerto Rican dreams a reality here in lovely Long Beach. Allow me to feed your mind, body and soul with the best tasting, freshest vegan Latin meals you can find here in our lovely state of California.
Looking forward to making you feel more at home through my loving traditional, family style vegan Puerto Rican cuisine.
Looking forward to feeding you soon!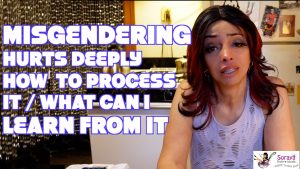 Misgendering At The Workplace. Why does it happen? What to...
Read More